A lawyer by trade, Katherine Wuscher (née Kathrin Wüscher) has embarked on the creative journey she has always envisioned for herself.
As a child she proclaimed she wanted to become and actress. However, as a shy girl with good grades she wasn't predestined for the stage. The academic path seemed to be the logical choice and she took it. After graduating from law school, though, she finally summoned her courage and enrolled in a New York drama school (Neighborhood Playhouse). Upon her return to Switzerland - where she resumed work as a law clerk at the criminal court - she started writing her first film script. Its working title was "Dilemma" which was later changed to "Stand clear of the closing doors". With great determination she pursued this project which features her not only as the screen writer but also as producer, director and leading actress.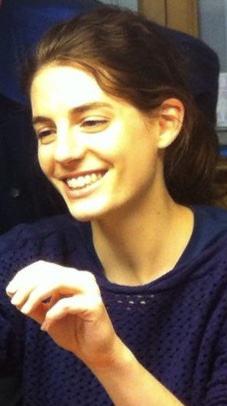 This experience made her discover her interest in directing which is why she didn't hesitate to accept when she was asked to co-write and direct her first feature film.
Katherine Wuscher has always had a profund interest in languages (she speaks German and English fluently) and is fascinated by the wide array of possibilities the written and the spoken word offer. However, as the daughter of an artist (painter) she is equally fascinated by images and their very own power of expression.
While film - therefore - is the logical choice, she does not want to limit herself creatively. She is keen to work on her own projects (writing, directing, acting) as well as collaborate with other artists and explore new territory.
Jane in "Stand Clear of the Closing Doors", Short, CH 2016
Client in an informational film for AMAG Switzerland
Aphrodite in "Mixed Doubles"; Semi-Circle Basel, Fall 2013.
Philippa in Agatha Christies "A Murder Is Announced"; Semi-Circle Basel; Summer 2013.
Waitress in "Why Not?", Crosshatch Theater Company, New York, Summer 2011.
Melissa in "Mind Control"; Crosshatch Theater Company, New York; Summer 2011.
Amy in "One Sunday Afternoon"; Neighborhood Playhouse, New York; Spring 2011.
Bride for Festum Artis (wedding decorations, invitations and vintage jewelry)
9 / 2010 - 5 / 2011 Neighborhood Playhouse School of the Theater
2 / 2008 - 6 / 2009 University of Basel, Master of Law (summa cum laude)
10 / 2004 - 1 / 2008 University of Basel, Bachelor of Law (summa cum laude)
8 / 1999 - 8 / 2003 Kantonsschule Schaffhausen (high school), Matura, Typus m
fluent in English and German; basic knowledge of French and Spanish, very little Italian
good ear for accents
guitar playing
all content © Katherine Wuscher 2016